Our multi-ship feature allows you to provide a different address for each gift when placing your order online. Check out our helpful video below.
Please note! If you'd like to ship to multiple address AND schedule a future ship date (i.e. 'Buy Now. Ship Later.'), please start your order here instead for a more seamless process!
Step 1: As you navigate through our website you can click "Shop Curated Gifts".

Step 2: Click on a gift that you like to see pictures and details of what is included in the gift. You will also notice that immediately following the list of items, there is a text box where you can write a personalized message. Once you've written your message, click "Add to Cart."
Note, if you'd like to choose a different gift or message for each recipient, be sure to add one gift at a time, changing your message each time. If you're happy with the same gift and message for everyone, you can increase the quantity before clicking "Add to Cart."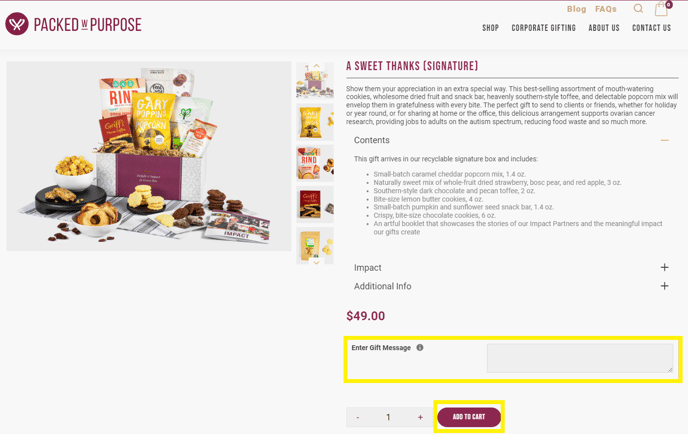 Step 3: Once you have all your items in the cart and you're ready to check out, select "View Cart". You can ship to multiple addresses by clicking "Ship to multiple addresses" instead of "Checkout".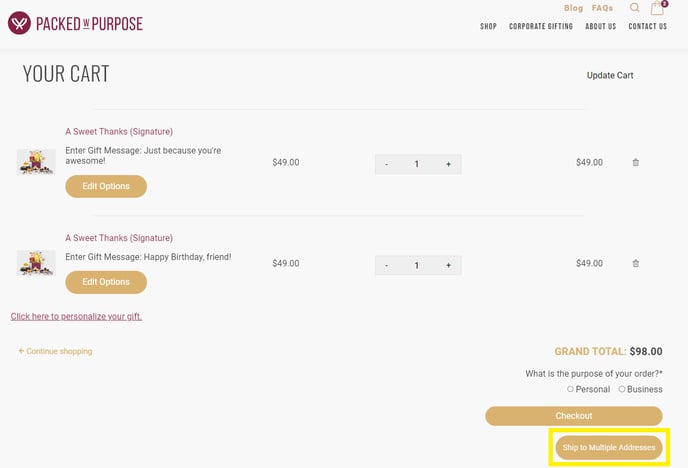 Step 4: Now you can click "New Address" and type the address you would want each gift shipped. The number to the left of the address is the number of gifts that are being shipped to that address, so if sending the same gift to multiple people, be sure to send one of each gift to each address.

Step 5: Once you have finished adding in the addresses you can click "Continue". From there you can select your preferred shipping method and proceed to payment.